Enrichment Day March 2021
Many thanks for all that participated in the Virtual Enrichment Day.
We hope you really enjoyed the activities that we set you. From the feedback we received it is clear that you put a lot of effort in to the day.
I think we must have also broken the world record for the amount of people making Hot Cross Buns; despite that being a very hard challenge!. The Art and Photography challenges were the most popular across the board, hands down; you must be a very arty bunch.
We are so pleased with your efforts that we wanted to honour some of the pieces of work we received and publish them on this page.
Judging the winners was an incredibly hard job but one that we have now managed to complete. You will have received an announcement by email and we have posted the winners below.
We done to all those that did win, or received highly commended prizes. There were many more of you that we would have loved to give recognition to unfortunately we just do not have the space to show all your work!
Year 7 Work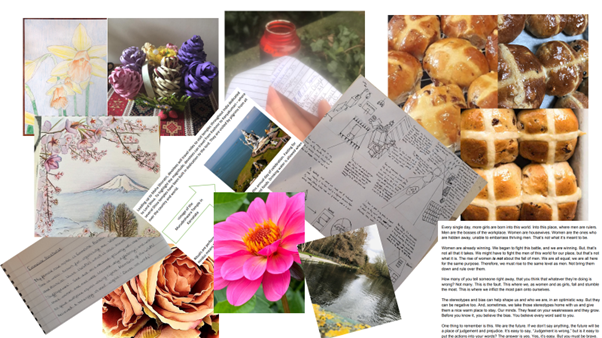 Year 8 Work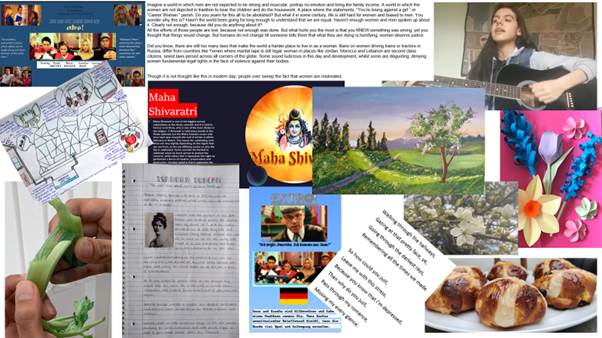 Year 9 Work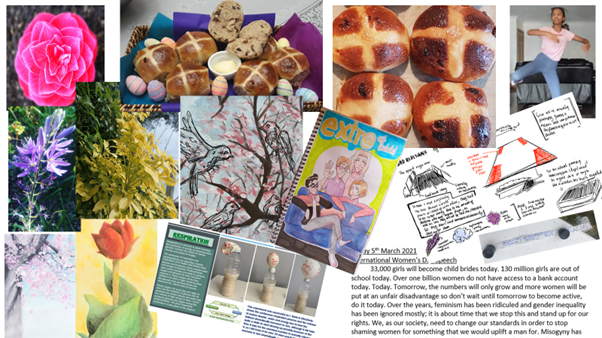 Year 10 Work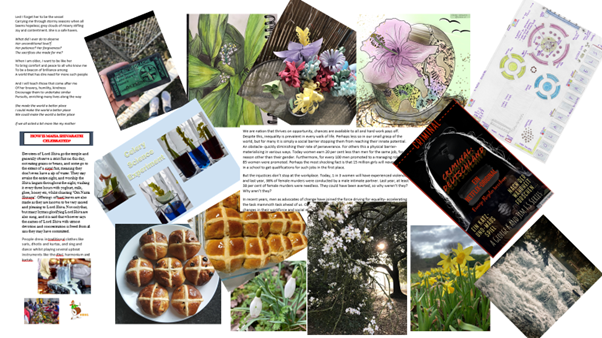 Proudly Announcing the winners
Again thanks for all the effort put in, we are really proud to confirm the winners for each year and activity below.

Activity/

Challenge

Year 7

Year 8

Year 9

Year 10

Art

Winners

1st
Coco 7SEA

Highly Commended
Emma 7SEA
Naomi 7JOH

Winners

1st
Maia 8CUR

Highly Commended
Amaya 8BRO
Corrie 8ATH

Winners

1st
Aarabi 9PAN

Highly Commended
Aanya 9JOH
Ela 9JOH

Winners

1st
Deya 10SHA

Highly Commended
Chloe 10ATH
Chantelle 10ATH

Dance

Winners

1st
Mayurika 7SHA

Highly Commended
Annabel 7JOH

Winners

1st
Emma 8SEA

Highly Commended
Zaara 8SEA

Winners

1st
Ysehult 9BRO

Highly Commended
Helena 9BRO

Winners

1st
Leila 10BRO

Highly Commended
Annie-Faith 10 CUR
Caitlin 10SHA

Food Tech Baking

Winners

1st
Chidera 7CUR

Highly Commended
Emily 7PAN
Stella 7CUR
Pranneeta 7SEA

Winners

1st
Emily 8JOH

Highly Commended
Emily 8ATH
Estelle 8JOH
Jessica 8PAN

Winners

1st
Freya 9SHA

Highly Commended
Kaitlyn 9SEA
Helena 9BRO
Samiksha 9SEA

Winners

1st
Ahlaam 10SEA

Highly Commended
Arunima 10SEA
Poppy 10ATH
Thalia 10ATH

Geography Geocaching

Winners

1st
Amy 7SEA

Highly Commended
Radhika 7SEA
Jazz 7CUR

Winners

1st
Katie 8CUR

Highly Commended
Nicole 8CUR
Bethany 8CUR

Winners

1st
Namoshi 9CUR

Highly Commended
Maisy 9CUR
Zaina 9PAN

Winners

1st
Amy 10JOH

Highly Commended
Fearne 10SEA
Eleanor 10BRO

Innovate/ STEM

Winners

1st
Onyema 7SEA

Highly Commended
Anishka 7BRO
Baruni B 7PAN

Winners

1st
Isabelle 8SEA

Highly Commended
Tharnya 8SEA
Beatrix 8PAN

Winners

1st
Anandhika 9BRO

Highly Commended
Natsai 9BRO

Winners

1st
Aryana 10CUR

Highly Commended
Anamika 10PAN
Alvita 10SEA

IWD Speech

Winners

1st
Gracie 7CUR

Highly Commended
Andrielle 7BRO
Mayurika 7SHA

Winners

1st
Dena 8PAN

Highly Commended
Phoebe 8BRO
Beatrix 8PAN

Winners

1st
Neha 9JOH

Highly Commended
Yetunde 9CUR
Maisara 9BRO

Winners

1st
Kile 10SHA

Highly Commended
Maahi 10ATH
Pradhany 10JOH

Modern Foreign Language

Winners

1st
Aarnavii 7BRO

Highly Commended
Aena 7ATH
Amalya 7PAN

Winners

1st
Aysha 8SHA

Highly Commended
Jemima 8CUR
Radchaya 8JOH

Winners

1st
Georgina 9BRO

Highly Commended
Alice 9JOH
Nadine 9SHA

Winners

1st
Anjali 10SHA

Highly Commended
Sianna 10SHA
Qamar 10CUR

Music

Winners

1st
Zara 7SHA

Highly Commended
Lakshmi 7ATH
Isabella 7SHA

Winners

1st
Nithoojaah 8CUR

Highly Commended
Emily 8BRO Anika 8PAN

Winners

1st
Abita 9ATH

Highly Commended

Aayagi 9SEA
Adithya 9SEA

Winners

Unfortunately no entries were received that met the brief

Photography

Winner

1st
Angelina 7SHA

Highly Commended
Aarnavii 7BRO
Tia 7SEA

Winners

1st
Isobel 8SEA

Highly Commended
Abigail 8PAN
Emily 8CUR

Winners

1st
Lucia 9ATH

Highly Commended
Elina 9SHA
Tiffany 9SEA

Winners

1st
Aryana 10CUR

Highly Commended
Mathura 10SHA
Maleesha 10BRO

Spring Science

Winners

1st
Emily B 7ATH

Highly Commended
Elsie 7CUR
Hady 7PAN

Winners

1st
Huda 8SHA

Highly Commended
Zaynab 8JOH
Aarabi 8SEA

Winners

1st
Janushka 9ATH

Highly Commended
Sanjithaa 9BRO
Maleena 9SEA

Winners

1st
Arisha 10PAN

Highly Commended
Mya 10SHA
Megan 10PAN

TP

Winners

1st
Arianna 7CUR

Highly Commended
Annie 7BRO
Ruhma 7PAN

Winners

1st
Shazia 8PAN

Highly Commended
Kae-Ronique 8SHA
Oumou 8BRO

Winners

1st
Mekavi 9ATH

Highly Commended
Sapphire 9PAN
Charita 9CUR

Winners

1st
Aditi 10ATH

Highly Commended
Raji 1 JOH
Kabeesha 10PAN

Woman Role Model

Winners

1st
Amelia 7ATH

Highly Commended
Nithusiga 7CUR
Shaanu 7ATH

Winners

1st
Aradhana 8SHA

Highly Commended
Zaara 8SEA
Ramiya 8SEA

Winners

1st
Shadhana 9SEA

Highly Commended
Adithya 9SEA
Izzah 9JOH

Winners

1st
Lelana 10BRO

Highly Commended
Millie 10CUR
Nura 10SEA